Logic Systems speakers set for church life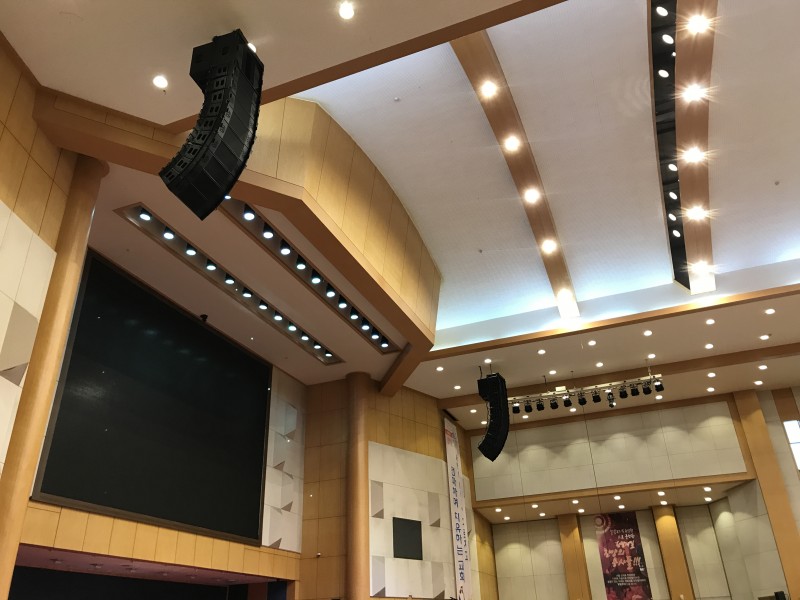 A 1500 seater church in South Korea is installing our speakers.
The church has chosen to install 18 of the Ethos VA range, a vertically arraying front-of-house PA system suited to a wide range of applications. A minimum array is composed of three boxes, with more typical configurations being composed of six to twelve boxes.
The installation also includes two Nd315 cabinets for extended bass response and a ground-stack of four Nd218. The Nd315 can be flown above an array or used as the basis of a ground stack. If required, multiple Nd315 cabinets will lock together when ground stacked. For larger applications, where substantial sub bass reinforcement is required, the Nd218 cabinet can be ground stacked with the system. Twelve compact and low line LM15 stage monitors will complete the install.
It's an ideal solution for a large auditorium such as this large church.
Ethos VA give a horizontal coverage of 120 degrees, with vertical coverage defined by the array angles. Each box has a front hinge point and a choice of back angles, 0°, 1.25°, 2.5°, 5° & 10°. Back angle selection can define both vertical coverage and the throw of the system, making Ethos VA equally at home in an auditorium or an outside festival. Adjacent boxes clip together with Kwik Lok pins, making changes to set up quick and painless.
The Ethos Live range is tailored to the needs of the audio professional working in the live sound market. The range includes three integrated array products and is completed by the LM series of stage monitors. Delivery is at the end of the month.