1200W Bass Cabinet SB1 – 18″ Sub/Bass: Portable Sound SB1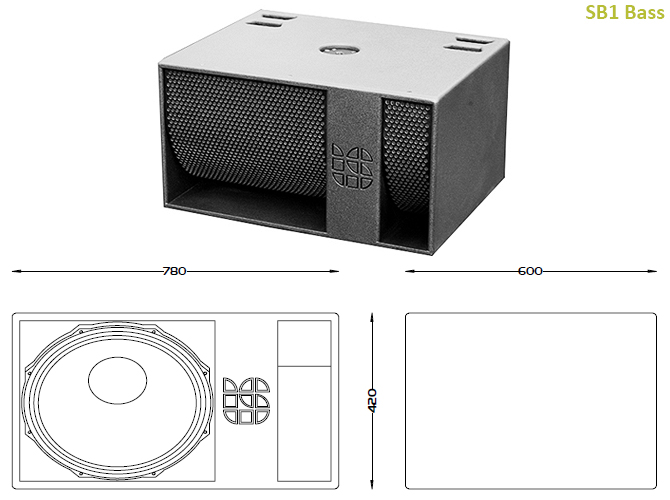 Bass Enclosure: SB1 – Logic Systems Pro Audio
Bass Enclosure SB1
The SB1 is a high power 1200w sub bass cabinet. It utilises an 18" neodymium bass cone loaded into a vented back cavity while the front of the driver is loaded into a manifold that helps to improve performance between 80- 150Hz. The SB1 is designed to be used in landscape mode and will only give optimum performance when used in this mode. The SB1 was designed to be used as part of an integrated system with the ML15 enclosures but also has applications as a compact bin for installation.
Its low profile gives flexibility when space is at a premium.
Additional Note:
1.) Sensitivity measured at 1 meter with 2.83V, using band limited pink noise.
Technical Information:
Technical
Specification
Frequency Response
45Hz – 150Hz
Components
Bass: 18″ cone driver
HF: N/A
Power Handling
1200w
Sensitivity (1)
98dB
Directivity
Omni-directional
Impedance
8 Ohm
Construction
15mm Birch plywood
Finish
Water based textured black paint
Connections
2 x Neutrik NL4 connectors
1+/1- Input 2+/2- linked
Dimensions
780mm (W) x 420mm (H) x 600mm (D)
Packaged Dimensions
930mm (W) x 545mm (H) x 730mm (D)
Weight
42 KG
Cabinet Information:
CABINET
SPEC
Cabinet
SB1
Handles
Yes
Tophat
No
M20 Plate
Yes
Castors
No
Bracket Pt
N/A
Inserts / Fly
Points:
N/A