500W LOUDSPEAKER ENCLOSURE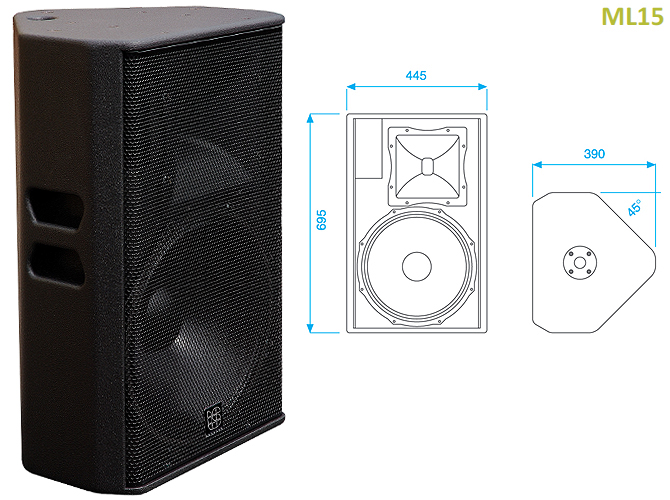 Multifunction Portable Sound: ML15 – Logic Systems Pro Audio
Portable Sound ML15
The ML15 is a high power, multipurpose, full range 500w loudspeaker enclosure. The cabinet combines a 15 inch mid/bass cone with a 1.4" neodymium compression driver on a 90° x 40° horn flare. The horn flare rotates to aid use in both landscape and portrait applications. The cabinet can be used full range or combined with the SB1 bass enclosure to form an integrated system. The ML15 contains an internal passive crossover network.
The multipurpose nature of the cabinet makes it suitable for a variety of applications including FOH, monitoring, stage fills and delays. Target markets for the product include church, live sound, theatre and A/V.
Additional Note:
1.) Sensitivity measured at 1 metre with 2.83V, using band limited pink noise.
Technical Information:
Technical
Specification
Frequency Response
50Hz – 18kHz
Components
Bass/mid: 15″ cone driver
HF: 1.4″ exit neodymium compression driver
Power Handling
500w
Sensitivity (1)
99dB
Directivity
90 x 40 above 1.5 kHz (60 x 40 Optional)
Impedance
8 Ohm
Construction
15mm Birch plywood
Finish
Water based textured black paint
Connections
2 x Neutrik NL4 connectors
1+/1- Input 2+/2- linked
Dimensions
445mm (W) x 695mm (H) x 390mm (D)
Packaged Dimensions
580mm (W) x 855mm (H) x 505mm (D)
Weight
31 KG
Cabinet Information:
CABINET
SPEC
Cabinet
ML15
Handles
Yes
Tophat
Yes
M20 Plate
No
Castors
No
Bracket Pt
Top/Side
Inserts / Fly
Points:
Yes