400W Bass Loudspeaker Enclosure: Installed Sound B120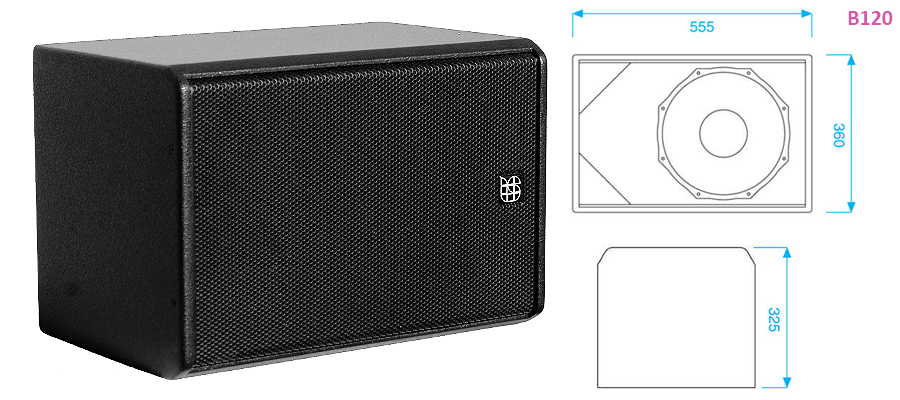 Installed Sound Range: B120 – Logic Systems Pro Audio
Installed Sound Range
The Logic Systems Pro Audio B120 is a compact, high power, 400w bass loudspeaker enclosure which features a direct radiating 12 inch bass driver. The B120 is installation specific and includes insert points that permit the cabinet to be mounted in a variety of positions including against the ceiling; a useful feature when space is often at a premium. Corner porting also ensures uniformity of performance when mounted in either the landscape or portrait modes.
The Logic Systems DP2140 system controller contains presets for the combination of the B120 with other Logic System products.
Additional Note:
1.) Sensitivity measured at 1 meter with 2.83V, using band limited pink noise.
Technical Information:
Technical
Specification
Frequency Response
55Hz – 150kHz
Components
Bass: 1 x 12″ cone driver
HF: N/A
Power Handling
400w
Sensitivity (1)
98dB
Directivity
Omni-directional
Impedance
8 Ohm
Construction
15mm Birch plywood
Finish
Water based textured black paint
Connections
2 x Neutrik NL4 MPR
1+/-: Input 2+/-: Linked
Dimensions
365mm (W) x 555mm (H) x 325mm (D)
Packaged Dimensions (2)
500mm (W) x 720mm (H) x 445mm(D)
Weight
22 KG
Cabinet Information:
CABINET
SPEC
Cabinet
B120
Handles
No
Tophat
No
M20 Plate
No
Castors
No
Bracket Pt
No
Inserts / Fly
Points:
No