Notion Portable Sound Range
The N Series is a range of cabinets which offer flexibility in use; they are equally happy on front of house or for installation. Typical applications for the products are the Audio Visual market, theatre and church live bands DJs and corporate market to installations.
Portable Sound Series:
The Notion series is a family of loudspeakers for the modern day, delivering warmth and clarity but high performance at a price point not previously possible. Notion is a fresh, modern design, catering for not only the needs of portability but also installation purposes. Applications range from portable sound reinforcement for live bands, DJs and corporate events to installations in nightclubs, bars, commercial spaces and churches. Comprising of four two-way systems from the compact N8 to the powerful N14 and three bass enclosures.

The Notion loudspeakers are serious performers in their class and raise the bar to new heights. Each full range enclosure features a rotatable horn for horizontal or vertical orientation. Comprehensive mounting options include eyebolt suspension, wall bracket and pole mounting. Ergonomic handles incorporated in the rear of each full range enclosure allow easy handling with all sub woofers benefiting from handles to the sides.

All Notion series enclosures benefit from state of the art neodymium loudspeaker components, constructed from durable plywood, finished with hardwearing black textured paint with white and customer RAL colour options available to order.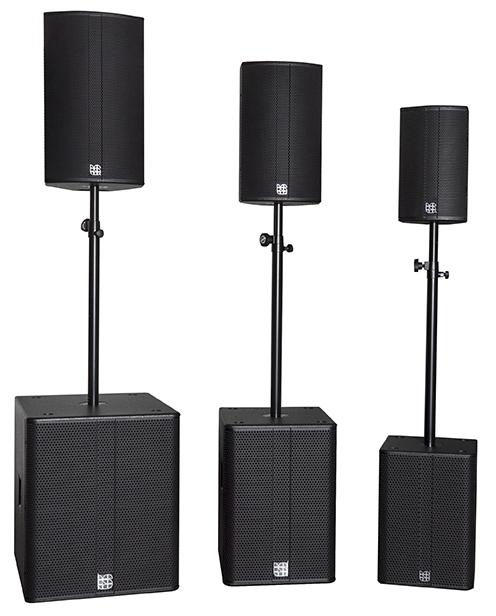 Colour
N Series cabinets are available in black or white as standard colours. As this product is often installed into design led environments the product also benefits from a custom colour option.

Brackets
N series cabinets come with a wide range of mounting options. Cabinets have top hats or M20 plates, back, top and side bracket points for both landscape and portrait alignments as standard. They also benefit from insert points to further assist the installer. HF-Units can be fitted vertically / horizontally.
Installation:
While the Notion range has no installation specific versions, its integrated bracket points and insert points make installation easy and its acoustic qualities make it the preferred choice for the discerning installer.
Notion Portable Sound Products:
Check below our latest Notion products and click on the image to view respective detailed information.