600W Stage Monitor – 15″ Bass: Live Sound LM15
The LM Series is a range of state of the art live sound stage monitors. The LM15 cabinet combines a 15" Neodymium Mid/Bass cone with a coaxially mounted 1.4" compression driver, which is passively crossed over. The coaxial layout has many acoustic advantages and also means that with a centrally mounted HF driver matched pairs are not required.
To aid functionality the cabinet also benefits from a tophat mount which enables the cabinet to be used for small front of house applications. The monitor also benefits from being low profile to improve those all important sight lines. Another useful feature is link through speakons on the cabinet ends, ensuring neat cabling when used as pairs.
Additional Note:
1.) Sensitivity measured at 1 meter with 2.83V, using band limited pink noise.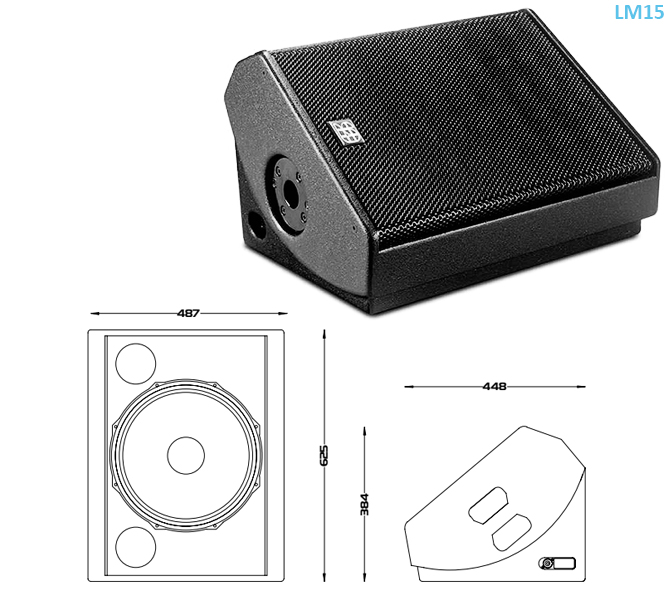 Ethos Live Sound: LM15 – Logic Systems Pro Audio
Technical Information:
GENERAL
SPECIFICATION
Frequency Response
55Hz – 20kHz
Components:

Bass/mid: 15″ neodymium cone driver
HF: 1.4″ exit compression driver, coaxially mounted

Power Handling
600w (Per Cabinet)
Sensitivity (1)
99dB (Minimum two box configuration)
Directivity
60 conical above 1kHz
Impedance:
8 Ohm nominal
Construction:
15mm Birch plywood
Finish
Water based textured black paint
Connections

2 x Neutrik NL4 connectors (one each end)
1+/1- Input 2+/2- no connection

Dimensions
487mm (W) x 625mm (H) x 450mm (D)
Packaged Dimensions (2)
580mm (W) x 790mm (H) x 530mm (D)
Weight
27Kg
Cabinet Information:
CABINET
SPEC
Cabinet
Ethos LM15
Handles
1 OFF
Tophat
Yes
M20 Plate
No
Castors
No
Bracket Pt
No
Inserts / Fly
Points:
No