350W Loudspeaker – 12″ Bass: Installed Sound IS12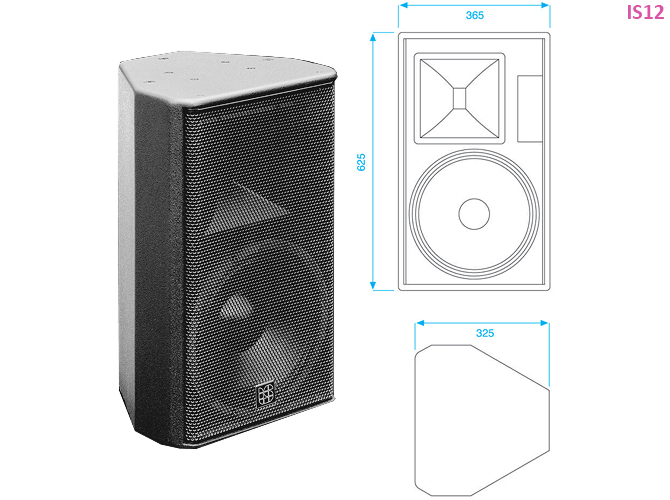 Installed Sound Range: IS12 – Logic Systems Pro Audio
Installed Sound Range
The Logic Systems Pro Audio IS12 350W loudspeaker cabinet combines a 12 inch mid/bass cone with 1" compression driver on a 90° x 40° horn flare. The cabinet is part of the IS Series which is aimed specifically at the Bar and Club installation market. The IS Series are available with a range of bracket options to aid installation and can also be ordered in special colours to fit the needs of the designers. Standard colours are black and white.
The IS Series aims to bring both an audio and build quality that is not common at this price point. To this end all IS Series cabinets are constructed from birch ply and are rebated, glued and screwed. Additionally all audio components are sourced from within the EU.
Additional Note:
1.) Sensitivity measured at 1 meter with 2.83V, using band limited pink noise.
2.) Please note that IS12 cabinets are supplied boxed in pairs.
Technical Information:
Technical
Specification
Frequency Response
60Hz – 18kHz
Components
Bass/mid: 12″ cone driver
HHF: 1" exit compression driver
Power Handling
350ww
Sensitivity (1)
97dB
Directivity
90 x 75 above 2kHz
Impedance
8 Ohm nominal
Construction
15mm Birch plywood
Finish
Water based textured black paint
Connections
1 x Neutrik NL4 MPR
1+/2+ = Positive Input 1-/2- = Negative Input
Dimensions
365mm (W) x 625mm (H) x 325mm (D)
Packaged Dimensions (2)
510mm (W) x 780mm (H) x 465mm (D)
Weight
22 KG
Cabinet Information:
CABINET
SPEC
Cabinet
IS12
Handles
1 OFF
Tophat
Yes
M20 Plate
No
Castors
No
Bracket Pt
Top/Side
Inserts / Fly
Points:
4 OF